Hello PPMA members and friends
ED&I is one of the 6 key themes our Association is focusing on for the foreseeable future. Age discrimination however is sometimes an overlooked area when it comes to diversity, so we wanted to share with you a recent blog post written by our good friends and supporters at Penna on this important topic.
---
Huge efforts have taken place in recent years to minimise discrimination in society and the workplace. These advances across organisations in the UK and beyond have been well documented in improving the rights of previously marginalised groups – whether this is because of race, sexual orientation, gender, disability, or another part of simply who someone is.
One area however that often gets overlooked is in the older generation of workers – who still have so much to offer the workplace, which is further illustrated in research from the Adecco Group's Workforce of the Future report into post-pandemic labour markets.
Age Discrimination – the realities
As life expectancy in the U.K now hovers around 81 on average, it is very likely that by the time you reach 50 and do not meet the criteria of what is perceived as being an attractive talent, you may face harsh prejudices, discrimination, and higher risks of being made redundant. Age is something that we all must deal with – but the stigma around it and unfortunate stereotyping is something we should not have to.
Although it is still against the law to discriminate against anyone because of their age, the number of age discrimination complaints to employment tribunals increased by 74% between 2019 and 2020 (see below). Also from the data, you can see that age discrimination saw the biggest year-on-year increase of all other specific jurisdictional complaints.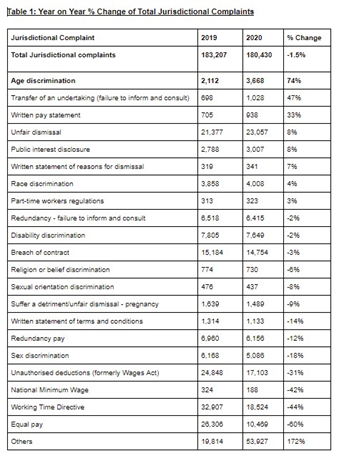 The 'Great Unretirement'
As recruiters, we are familiar with the 'Great Resignation' which has kept us busy for a lot of 2022. However, there is another trend that should get our attention, the 'Great Unretirement'. With spiralling inflation, volatile financial markets and the soaring cost of living, retired people are returning to the workplace. There has also been great worry for those who are in work in this age group, with redundancies amongst the over 50s having increased by 195% in a year between 2020 and 2021, with the level and rate both higher than in any other age group.
According to ONS data analysis "…Those aged 50 years and over had the highest overall increase in redundancy rate over the year to December 2020 to February 2021, rising from 4.3 to 9.7 per thousand, up 5.4 per thousand on the year." This was the highest redundancy rate across age groups in this quarter.
As you can see, the older you get, the harder it seems that getting and holding onto a job will become.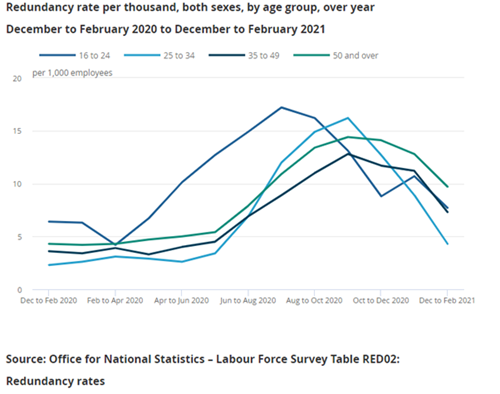 How can employers address the issues felt by Older Workers?
Firstly, simply understanding the incredible value that older workers can bring to an organisation is a start. As with all successful organisations, diversity is at their heart – whether this is diversity of gender, race, mind or, indeed, age.
We at Penna know that we have a role to play in this through our consultancy work – we're on a journey at different stages of this with employers up and down the country. But there are others too helping the over 50s – organisations committed to helping this group with their work, money, health, legal, wellbeing, volunteering, lifestyle and dating parts of their lives – services like Rest Less , Working Wise and 55 Redefined.
By committing to a recruitment and retention strategy that has diversity at its heart, you can not only protect the interests of older workers but also make yourself a more inclusive and ultimately successful employer. Contact Penna's Diversity Consultancy to see how they can help.