Hello PPMA members and friends
This week's post is from one of our key sponsors and supporters Jobs Go Public and they share some of their favourite Public Sector Employer Brands. They outline why these particular brands have caught their eye and offer some useful pointers about what makes a good Employer Brand.
---
In a job market where competing for candidates feels like a battle, it's increasingly important for employers to stand out from the crowd. A study of our audience on Jobs Go Public shows that most job seekers want to know about a company's culture before applying.
This starts with your EVP (employer value proposition).
Perhaps you already have a well-defined EVP, but you're just not sure how to sell it. This is where your employer brand comes in. Employer brand is how you showcase your EVP and position your organisation within the job market.
A great employer brand communicates the reasons why people want to work for you – and should be designed to capture the attention of candidates with the types of skills and attributes that you are looking for.
To provide you with some inspiration, we've picked out six of our favourite examples of fantastic public sector employer brand:
1. Birmingham Children's Trust
Birmingham Children's Trust is an independent branch of Birmingham City Council working with over 10,000 children in the local area. Their mission is to make a difference for children in Birmingham and to support families to make positive change. The Trust offers a vast array of exciting social work roles and markets their EVP through a dedicated careers section on their website.
Social work is an incredibly competitive subsector, with many employees choosing to take on higher paying temporary roles via recruitment agencies, rather than permanent contracts. With this in mind, having a strong public sector employer brand is vital to help the Trust compete for top talent.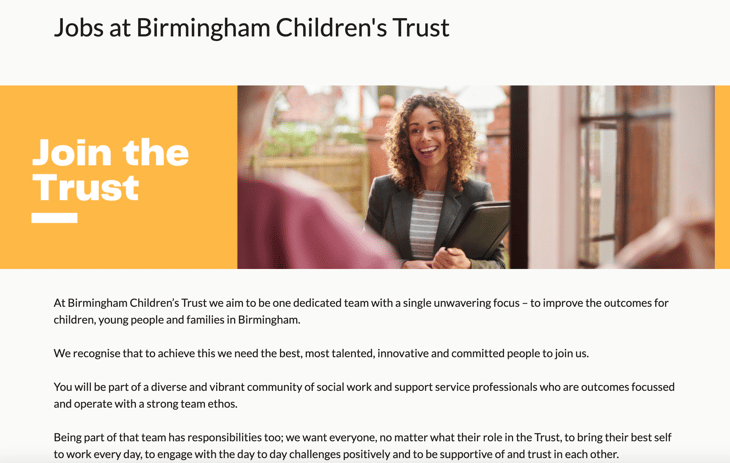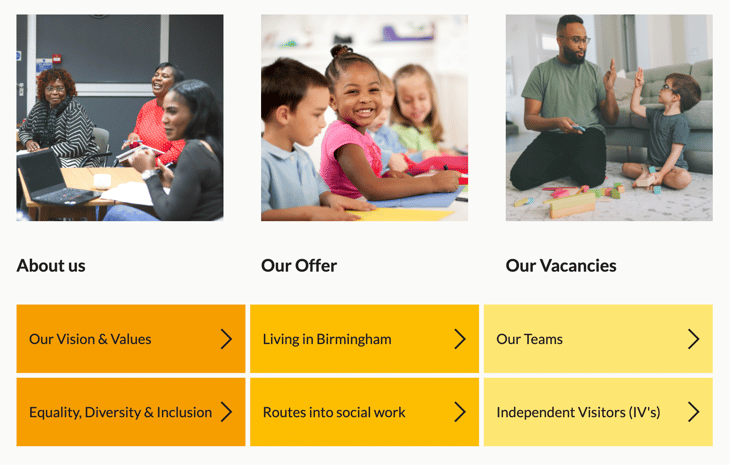 Why we love this site: 
Birmingham Children's Trust has a strong brand identity which is instantly recognisable on their careers site.
The site offers a thorough breakdown of the Trust's background and culture, as well as what makes it unique as an employer. A wealth of information is available to candidates, making the Trust's EVP extremely clear and accessible.
Moreover, the Trust engages new staff who may be considering a social work career by offering an overview of the different routes to becoming a social worker. This creates an opportunity to entice newly-qualified employees to grow their careers within the organisation.
2. Cheshire Schools
Cheshire Schools Jobs is a careers microsite offered by Cheshire East Council and Cheshire West and Chester. The Cheshire-based councils sit in the centre of the North West region, with teaching opportunities at over 300 schools.
Despite this array of schools to choose from, the councils are competing with counties such as Merseyside and Greater Manchester for teaching talent. As of the last quarter of 2022, teaching is one of the five most popular job areas among current candidates. This is an excellent opportunity to attract qualified teachers to your vacancies with a strong employer brand.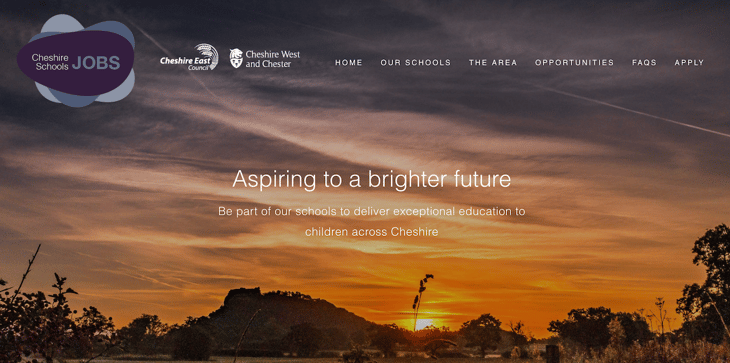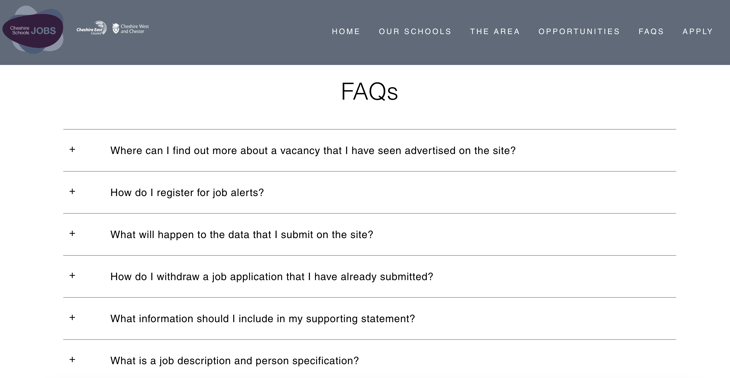 Why we love this site:
The Cheshire Schools Jobs site offers an attractive front door to teachers considering a career in the Cheshire area.
Upon entering the site, you are met with strong imagery and a call to action, "be part of our schools to deliver exceptional education". This places the councils' mission at the forefront of their brand.
In addition to highlighting the strengths of their schools as teaching environments, the microsite aids candidate experience by providing an FAQ. This FAQ breaks down key questions about the councils' application process, saving both the candidates' and hiring managers' time.
3. Welwyn Hatfield Borough Council
Welwyn Hatfield Borough Council is based in the centre of Hertfordshire, serving the communities of Welwyn Garden City and Hatfield. With London only 25 minutes away, the council is based in the heart of the commuter belt. This has created the challenge of competing for candidates with private companies who offer a London-weighted salary.
To help overcome this challenge, the council runs a fantastic careers site and has worked hard to develop a strong brand which sells their EVP.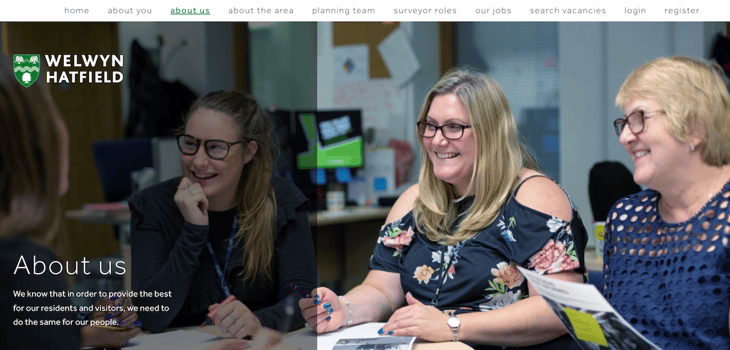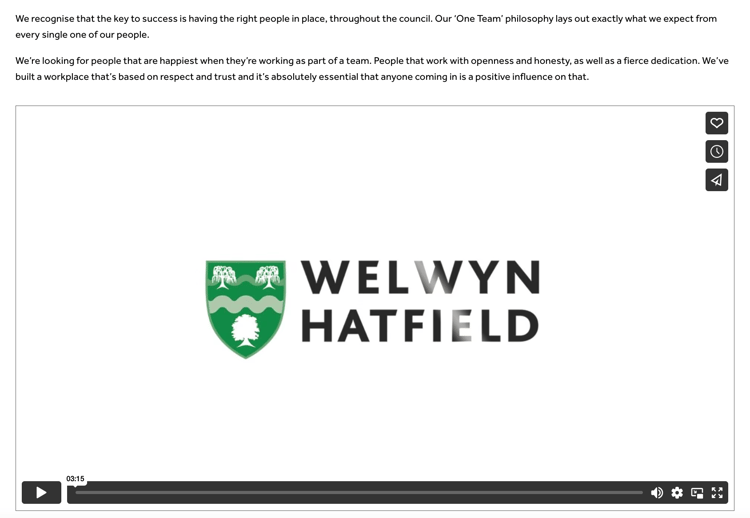 Why we love this site: 
Welwyn Hatfield's careers site boasts an engaging mixture of media and ties its EVP together with the byline #oneteam.
As well as demonstrating the unique beauty of the local area, the site provides further information about in-demand service areas such as Planning.
The USP of this site is its About You page, which features a video with staff testimonials. The highly engaging video showcases the council's values and offers candidates an insight to the work culture they can expect at Welwyn Hatfield.
 4. Wirral Council
Wirral Council is based in the Metropolitan Borough of Wirral in Merseyside and provides services for over 320,000 people.
Although the community is growing, Wirral sits in close proximity to the cities of Liverpool and Chester, making private sector roles in these areas easily accessible. To help them compete for talent, Wirral Council worked with JGP to create a careers microsite, which gives them a platform to shout about their EVP.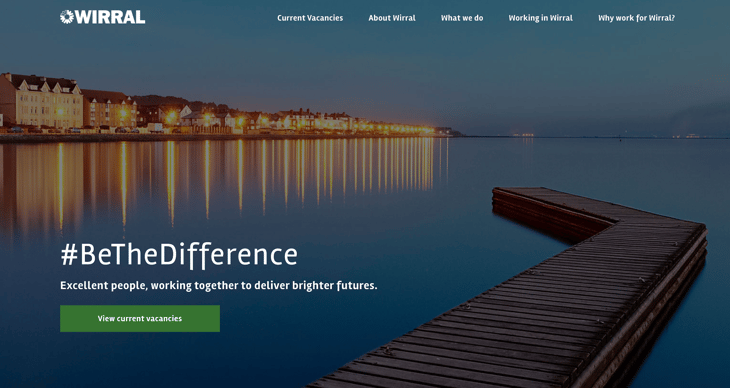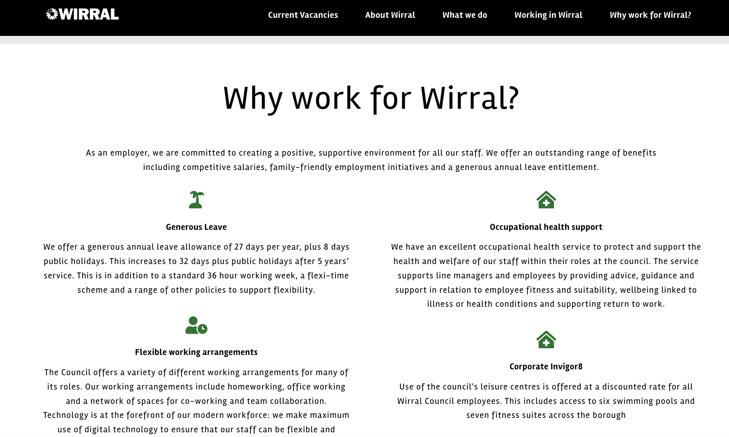 Why we love this site:
Wirral Council showcases its EVP succinctly and efficiently, using a continuous scroll microsite. Everything a prospective applicant might want to know about the work culture is available to read on a single, engaging page.
The site summarises the vision and values of the council as an employer and offers links to further resources such as the organisational structure.
In addition, Wirral offers a comprehensive breakdown of their benefits package, using icons and small sections of text rather than a continuous paragraph. This allows Wirral to highlight what makes them unique in a user-friendly format which keeps the candidate engaged.
5. London Borough of Havering
Employer brand doesn't have to stop at an organisational level. Our next example comes from the London Borough of Havering, who opted to present their EVP at the level of a single directorate. The Havering Planning Jobs microsite was created as an accompaniment to a large-scale recruitment campaign.
Jobseekers in the South tend to focus their attention on the London area. And with a larger concentration of vacancies to choose from, employers need a strong employer brand to draw attention from candidates.
This is where the campaign microsite comes in.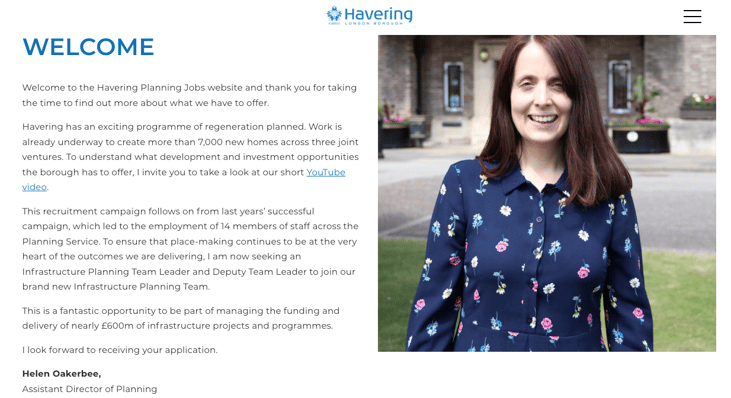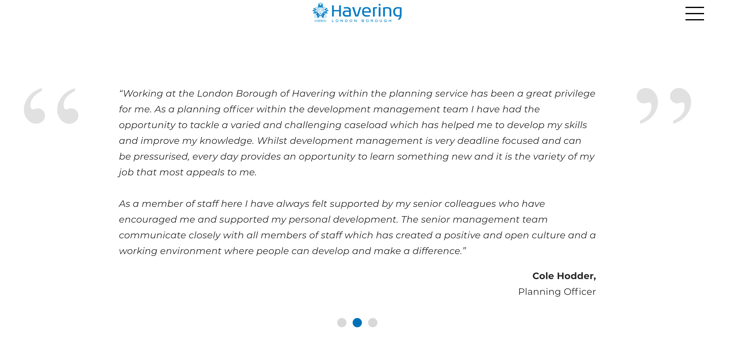 Why we love this site:
The Havering Planning Jobs site takes a people-centric approach. Any marketing expert will tell you that people buy stories, and when it comes to communicating your employer brand, your people are your best asset.
This campaign microsite centres around the employees' voices, including testimonials from current staff and why they love working in this service area.
The home page also features copy written by the service area's Assistant Director. This first-person perspective is engaging because the employer is speaking directly to the candidate with an approachable tone of voice.
6. Building Control Solutions
Building Control Solutions is a Berkshire-based partnership between the councils of West Berkshire and Wokingham. Operating as a merged service since 2016, BCS play a major role in ensuring building regulations are met across Berkshire.
Building control hiring managers have been facing challenges in recent years as the job market has reacted to the 2021 Building Safety Bill. This makes a strong employer brand like Building Control Solutions' more vital than ever. Consequently, BCS offers a fantastic careers site to showcase their EVP.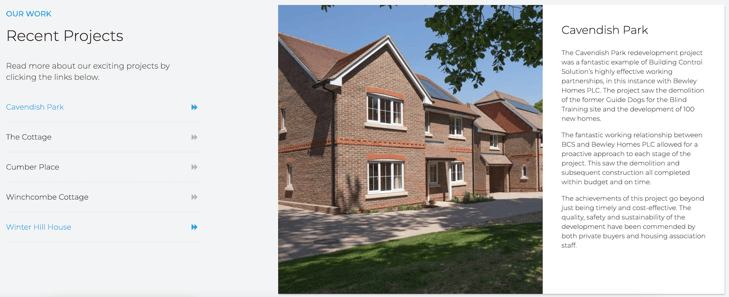 Why we love this site:
A unique aspect of the BCS careers site is that they have spotlighted some of their recent exciting projects. With a great mix of text and imagery, BCS allow candidates to imagine a day in the life of an employee and see how they will make a difference.
Not only this, but the partnership also offers an overview of the organisation's future transformation goals. This demonstrates to candidates how they can make an impact and become involved in the change.
Much like our previous examples, BCS focuses on their employees and demonstrates how their staff have developed their careers. Through testimonials and a short video, the site offers a variety of types of content to engage prospective applicants.
Need help developing your employer brand?
Developing a strong employer brand goes a long way towards promoting your EVP in a market fraught with competition for top talent. There's no one size fits all approach, but there are some common themes when it comes to a strong message:
Employees are the best tool for selling your organisation's story
A variety of content types keeps candidates engaged
All of the information a candidate will want to know should be easy to access
Creating a strong employer brand also starts with a great EVP. If you're struggling to develop and deliver your EVP, get in touch with our team today.